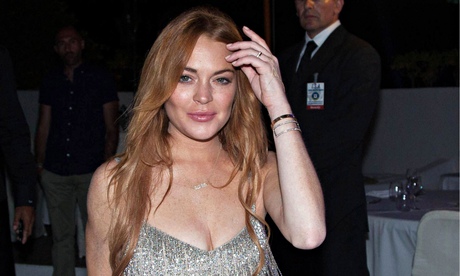 The press has speculated about what caused the actor to fall over at the Ischia film festival. Perhaps it was the surprise of being recognised for such 'classics' as The Canyons and Scary Movie 5.

There are moments when, in Lost in Showbiz's eyes, the media sorely lets itself down, where the real story is missed in pursuit of tacky sensationalism. Let us take, for example, Lindsay Lohan's recent visit to Italy. There was, as you may recall, a great deal of coverage of the fact that the troubled actor stumbled and fell over at one point, complete with much lurid speculation about the role alcohol may have had to play. But scarcely a word about what Lohan was in Italy for.

It seems all the more remarkable when you learn that she was there for the Ischia film festival. And not merely as a guest, but as the recipient of an award: an award for Comeback of the Year. Lost in Showbiz has a terrible feeling that reporters skirted around this issue in fear of mockery, cruel voices suggesting that Lohan really hasn't had any kind of cinematic comeback whatsoever, and that a minor film festival has made up an award in order to give it to her, thus whipping up some much- needed publicity.

Lost in Showbiz knows better. Who can look at Lohan's recent work and not take the Ischia film festival's point? Scary Movie 5. The Canyons, winningly described by its own scriptwriter, Bret Easton Ellis, as "an hour 30 and it seems like it's three hours long". InAPPropriate Comedy, a satire directed by a man best known for appearing on infomercials – that's right, a US equivalent of a film directed by Barry Scott of Cillit Bang fame – that was reportedly the worst-reviewed movie in the history of the Metacritic review aggregation website.

And who can look at the Global Honorary Board of the Ischia film festival without being impressed? Oliver Stone, Vanessa Redgrave, Terry Gilliam, Stephen Frears, John Boorman, Monica Belluci, Harvey Weinstein, Forest Whitaker, Samuel L Jackson – not to mention Sting. Lost in Showbiz cannot help but hope that they were all personally involved in the decision to award Lohan the Comeback of the Year award.

It imagines, say, Whitaker, Boorman and Redgrave in a screening room, rising as one to give a standing ovation to Scary Movie 5 and Barry from Cillit Bang's satirical comedy, pausing to wipe away a tear at the sight of an embattled actor back at the top of her game. And yet, judging from the reports in the British press, you'd think that never happened. What a world.